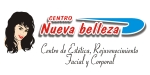 Welcomes, I am Anita Gutierrez, under a totally novel concept in physical preparation and integral beauty, the CENTER NEW BEAUTY is located in the freshest and safe place of our city, reunites in a same space, all the services of treatments in aesthetic and beauty, face as as much corporal.
Our Center dedicates exclusively to noninvasive treatments of face beauty and
More...
Jr. Bajada Balta 131 Nº 10 (Referencia: Frente al nuevo supermercado WONG de Miraflores) - Lima - Peru
Professionals in processes laciado japones, retex y brasilero with professional products that take care of their hair; natural extensions, changes of look and color with...
In Grace stylist find the latest trends for hair. Cutting, coloring, California, paper Clarita, hairstyles, braids, etc.. ...