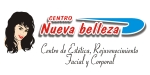 Welcomes, I am Anita Gutierrez, under a totally novel concept in physical preparation and integral beauty, the CENTER NEW BEAUTY is located in the freshest and safe place of our city, reunites in a same space, all the services of treatments in aesthetic and beauty, face as as much corporal.
Our Center dedicates exclusively to noninvasive treatments of face beauty and
More...
Jr. Bajada Balta 131 Nº 10 (Referencia: Frente al nuevo supermercado WONG de Miraflores) - Lima - Peru
We are an oasis of tranquillity to forget stress, to recover the energy and to submerge in a world of balance and well-being. In addition...
Open Tuesday through Saturday from 8:30 am to 6:00 pm Angel and Juan Carlos Thank you for your usual patronage. ...
Peluqueria treatment service resale anti fall of hair depilation hair products rol-on peeling facial aesthetic body massages descontracturantes modeling and anti-cellulite electrodes permanent makeup.
Medical center specializing in surgical and aesthetic dermatology clinic. ...
Give the perfect shape of your eyebrows according to the face, whiskers, cheeks, forehead, sideburns, chin.
It cuts of hair unisex, dyes, undulations, rays, yesoterapia, reduction of measures of 5 to 10 cm., shavingen, manicure, pedicure.
Paez Delivery offers the best quality kanekalon hair extensions natural, semi and quality wigs, and especially for ladies.
Encuentra trabajo o personal en América Latina. Anuncios gratuitos con curriculum.
Liposuction and cosmetic surgery. ...
Holistic beauty center, fitoestetíca, dietary nutrition and cosmetic surgery, specializing in facials.