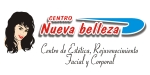 Welcomes, I am Anita Gutierrez, under a totally novel concept in physical preparation and integral beauty, the CENTER NEW BEAUTY is located in the freshest and safe place of our city, reunites in a same space, all the services of treatments in aesthetic and beauty, face as as much corporal.
Our Center dedicates exclusively to noninvasive treatments of face beauty and
More...
Jr. Bajada Balta 131 Nº 10 (Referencia: Frente al nuevo supermercado WONG de Miraflores) - Lima - Peru
Dyes, chinese sytem for relaxing curls, hair cuts and hair blowing; permanent makeup on eyes, lips and eyebrows, small tattoos on the body; parafango to...
We are a center that specializes in skin care; We provide consultation services and treatments in dermatology, cosmetology and aesthetic and podiatry
Chamber of beauty and hairdressing, cutting, coloring, manicure, pedicure, waxing.
Everything about hair, professional cut, color and hair design....
Company was created to raise awareness and expand oral health access where lna population twnga not a doctor dentist.
Facial and body waxing is done, forget conventional techniques depilate with thread and feels different, does not break the hair root extracts it, retards growth and skin friendly.
Encuentra trabajo o personal en América Latina. Anuncios gratuitos con curriculum.
V & M, spa of hands and feet (pedicure, podiatry), waxing hands and feet ... Promo $ 750
Novabelleza is a center for aesthetic medicine, with the highest technology and specialized Esthetic Medical professionals, which provides non-invasive facial and body aesthetic treatments and invasive miniamente.