Funeral directors and undertakers in Latin America
Rosabel florist is a shop in lima peru. Different, with beautiful details and our florists gifts different lima peru can send your flowers home transmitting your.
Rosabel Florist is a shop in Lima Peru. Different, with beautiful details and our Florists Gifts Different Lima Peru can send your flowers home transmitting your feelings and emotions through fine and beautiful flower arrangements lima Peru Delivery 100%. satisfaction sent to all Lima and Callao - Peru Tel: 477-1584 / 991700655 call now to send flowers anywhere in the
More...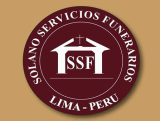 Solano Funeral Services "The best tribute to your loved one".
Burial, cremations, transfers 24 hours.
Funeral Solano, market leader in funeral services, with more than 16 years of experience
we have a large and experienced team of professionals in counseling and funeral insurance burial charges.
At the time requesting the intervention of the agency, unloading on us, confidence, assurance and accountability.
Where we deeply know
More...
Cemeteries in América Latina
A place of encounter and oration....
Flower shops in América Latina
We send flowers in Lima, Peru. The Lotus Flower shop offers the best quality floral arrangements and gifts business. Same Day Shipping....
Sale of wooden coffins, metal and related

Attention of integral funeral services, giving them to the respect and then more difficult advising. We take care of: transfers of cemeteries public to private, services of cremations, transfers to provinces, etc. Attention of all type of insurances: Essalud, AFP, Soat and particularres.
Insurances in América Latina
Jimenez Consortium rock, is a company of consultancy services especially in insurance and other businesses such as real-estate, shipping, advertising and point of payment for...
Ambulances in América Latina
We have ambulances 4x4, fully implemented under the rule of the Ministry of Health, type I, II and III, with roll bars, radio antenna others. ...
funeral services and funeral coffin
We are dedicated to provide cremation services and cremation with viewing the entire island.
We make coffins laqueados to the natural one in fine finished variety of models in cedar, mahogany, mohena, etc. We take care of burials trslados cremations and international receptions attention
More...
Foundries in América Latina
We manufacture brass bells and weight measurement. Also we produce letters, busts, plaques etc. and any artistic piece. ...
Serbian provider of cremation furnace for Ubaté Valley (Cund), sale of ash urns and caskets.
We offer services of burial to all type of public:
We accompanied it at its moments by pain and we let him know that his dear being did not leave them
More...
Nuestras Páginas Amarillas en Español
Les invitamos visitar también: