Funeral directors and undertakers in Latin America
Solano funeral services "the best tribute to your loved one". burial, cremations, transfers 24 hours. funeral solano, market leader in funeral services,.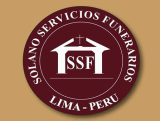 Solano Funeral Services "The best tribute to your loved one".
Burial, cremations, transfers 24 hours.
Funeral Solano, market leader in funeral services, with more than 16 years of experience
we have a large and experienced team of professionals in counseling and funeral insurance burial charges.
At the time requesting the intervention of the agency, unloading on us, confidence, assurance and accountability.
Where we deeply know
More...

Attention of integral funeral services, giving them to the respect and then more difficult advising. We take care of: transfers of cemeteries public to private, services of cremations, transfers to provinces, etc. Attention of all type of insurances: Essalud, AFP, Soat and particularres.
Cemeteries in América Latina
The company serves funeral, transportation, cremation, pet cremation, with warranty. ...
Flower shops in América Latina
All kinds of floral arrangements for home, hotels, empresas.decoraciones, etc. We have deliveries. With over thirty years of experiencia.Aceptamos cards and take orders from extranjero.Todo...
Final service funeral, transfers, services, room of velacion, civil and ecclesiastical preparation of the corpse and steps are realised, at the moments of their pain.
Park Cemetery, funeral services, funeral plans forecast.
Sales of services funeral and sales contract of funeral prevencios.
Alba Compañia Argentina de Seguros S.A. - Qlyque.com
Surely of coauici?n...
Ambulances in América Latina
Ambulance service, transfers inside and outside the country, covering all kinds of events. Budget without commitment Attention 24 hours ...
Goodbyes of our loved ones are sad, unfortunate and very painful especially when they are forever immortalized the name of the loved that game, with a tombstone designed to your
More...
We offer services of burial to all type of public:
We accompanied it at its moments by pain and we let him know that his dear being did not leave them
More...
Fundiciones en los Estados Unidos - AmarillasEstadosUnidos.com
Somos una empresa dedicada 100% a la fabricacion de aleaciones especiales de bronce sae 64, 62, 65, 67, 430, grafitado, trefiado, aluminio- anodos de zinc...
Sale of packages in funeral services and everything related to the field.
It is a company dedicated to the attention and execution of funeral services of high quality in all the country and mainly in the state of michoacan and guanajuato, with
More...
Nuestras Páginas Amarillas en Español
Les invitamos visitar también: