Funeral directors and undertakers in Latin America
Rosabel florist is a shop in lima peru. Different, with beautiful details and our florists gifts different lima peru can send your flowers home transmitting your.
Rosabel Florist is a shop in Lima Peru. Different, with beautiful details and our Florists Gifts Different Lima Peru can send your flowers home transmitting your feelings and emotions through fine and beautiful flower arrangements lima Peru Delivery 100%. satisfaction sent to all Lima and Callao - Peru Tel: 477-1584 / 991700655 call now to send flowers anywhere in the
More...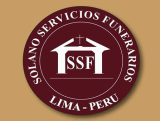 Solano Funeral Services "The best tribute to your loved one".
Burial, cremations, transfers 24 hours.
Funeral Solano, market leader in funeral services, with more than 16 years of experience
we have a large and experienced team of professionals in counseling and funeral insurance burial charges.
At the time requesting the intervention of the agency, unloading on us, confidence, assurance and accountability.
Where we deeply know
More...
Cemeteries in América Latina
The company serves funeral, transportation, cremation, pet cremation, with warranty. ...
Sale of wooden coffins, metal and related

Attention of integral funeral services, giving them to the respect and then more difficult advising. We take care of: transfers of cemeteries public to private, services of cremations, transfers to provinces, etc. Attention of all type of insurances: Essalud, AFP, Soat and particularres.
Sales of services funeral and sales contract of funeral prevencios.
Guía de trabajo y empleos en América Latina - GuiaTrabajo.com
http://www.guiatrabajo.com
Encuentra trabajo o personal en América Latina. Anuncios gratuitos con curriculum.
Flower shops in América Latina
Antuanell SA Florist is a company that aims to address a market segment that demands exclusive high quality, good taste and competitive prices....
It is a company dedicated to the attention and execution of funeral services of high quality in all the country and mainly in the state of michoacan and guanajuato, with
More...
Goodbyes of our loved ones are sad, unfortunate and very painful especially when they are forever immortalized the name of the loved that game, with a tombstone designed to your
More...
Juan Patricio Santillan Muquis - Qlyque.com
We are an Insurance Broker and are at your service, we have all kinds of policies, experts in securities. ...
Innova Carrocerias - Qlyque.com
http://www.qlyque.com/innova_carrocerias
Design manufacture fitness lease. ...
Heralds florist offers floral arrangements for a commitment, national and international service.
We are a created company with the purpose of to accompany it at those difficult moments but.
Nuestras Páginas Amarillas en Español
Les invitamos visitar también: