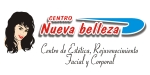 Welcomes, I am Anita Gutierrez, under a totally novel concept in physical preparation and integral beauty, the CENTER NEW BEAUTY is located in the freshest and safe place of our city, reunites in a same space, all the services of treatments in aesthetic and beauty, face as as much corporal.
Our Center dedicates exclusively to noninvasive treatments of face beauty and
More...
Jr. Bajada Balta 131 Nº 10 (Referencia: Frente al nuevo supermercado WONG de Miraflores) - Lima - Peru
Dyes, chinese sytem for relaxing curls, hair cuts and hair blowing; permanent makeup on eyes, lips and eyebrows, small tattoos on the body; parafango to...
Cejas perfectas cuenta con unas amplias e inmejorables instalaciones dotadas con logística de tecnología de punta, ubicada en un sitio amable en el corazón de...
Chamber of beauty and hairdressing, cutting, coloring, manicure, pedicure, waxing.
Beauty Salon specialists in hair extensions, and everything related to beauty. ...
We are dedicated to the beauty category, we have a highly qualified staff, our facilities are modern and latest generation equipment.
Hairdresser at home, party hairstyles, color, cut, hands, brushing progressive, hidrocauterización, makeup, highlights, reflections, localized brushing, shock keratin.
Massages of relaxation, reducers, column, shiatsu, reflexologia..... in charge of invidentes therapists in Miraflores...
Estamos dedicados a la fabricación distribución y comercialización de extensiones de cabello natural, ademas de ofrecer una alta gama de productos relacionados también hacemos la...
We have a highly skilled and qualified staff, which is constantly updated and attending seminars.