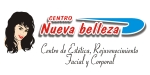 Welcomes, I am Anita Gutierrez, under a totally novel concept in physical preparation and integral beauty, the CENTER NEW BEAUTY is located in the freshest and safe place of our city, reunites in a same space, all the services of treatments in aesthetic and beauty, face as as much corporal.
Our Center dedicates exclusively to noninvasive treatments of face beauty and
More...
Jr. Bajada Balta 131 Nº 10 (Referencia: Frente al nuevo supermercado WONG de Miraflores) - Lima - Peru
Dermopigmentacion (permanent maquillaje), definitive shaving system of needles; brushing progressive - face treatments - radio frequency - shaving traditional system with disposable wax, in doctor's...
Chamber of beauty and hairdressing, cutting, coloring, manicure, pedicure, waxing.
We offered the best corporal treatments for men and women, with aparatolog?a of last generation and professionals highly enabled. We are an aesthetic medicine center...
Encuentra trabajo o personal en América Latina. Anuncios gratuitos con curriculum.
We are dedicated to the beauty category, we have a highly qualified staff, our facilities are modern and latest generation equipment.
Hairdresser at home, party hairstyles, color, cut, hands, brushing progressive, hidrocauterización, makeup, highlights, reflections, localized brushing, shock keratin.
Compramos pelo natural. Véndanos su pelo (se lo cortamos gratis), gane dinero de inmediato y ayude a aquellos que más lo necesitan. Llévese 400 C$...
We have a highly skilled and qualified staff, which is constantly updated and attending seminars.