We are a travel and tourism packages offered educational and corporate tourism nationally and internationally. ...
Dedicated to the transportation of students and private buses and car travel ...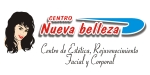 Welcomes, I am Anita Gutierrez, under a totally novel concept in physical preparation and integral beauty, the CENTER NEW BEAUTY is located in the freshest and safe place of our city, reunites in a same space, all the services of treatments in aesthetic and beauty, face as as much corporal.
Our Center dedicates exclusively to noninvasive treatments of face beauty and
More...
Jr. Bajada Balta 131 Nº 10 (Referencia: Frente al nuevo supermercado WONG de Miraflores) - Lima - Peru
Encuentra trabajo o personal en América Latina. Anuncios gratuitos con curriculum.
Packages at the local, regional and national levels, for all needs, at very low cost and quality of service.
Alquiler de autos para ejecutivos, eventos y reuniones sociales: matrimonios, quinceañeros, traslados de personal, traslados aeropuerto, servicio de taxis particular. Contamos con conductores profesionales...
Travel, tours and tourism at regional, national and international air tiqueteria, responsive in the city of Medellin and its surroundings, special transport services, airport transfers.