Occupational health in Latin America
We manufacture and distribute emergency equipment, rescue, first aid, non-sparking tools, eyewash, etc.
We manufacture and distribute emergency equipment, rescue, first aid, non-sparking tools, eyewash, etc.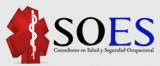 Management company specializing in health and safety in El Salvador and Central America. Offering: consultancies, training, consulting, audits, risk analysis and human infrastructure, medical services, emergency services; clinical services, dental laboratory. We have staff specializing in industrial safety and occupational medical engineering. pre Occupational medical program, occupational exams and others.
We want to be your first choice in health and safety.
SOES
More...
Doctors in América Latina
Nervous system diseases, heart attacks, strokes, Parkinson's, Alzheimer's disease epilepsy, migraine, depression, anxiety, headaches, tremors, tics, memory and behavior problems. ...
Preventive medicine in América Latina
Tests tratamienos osteoporosis and preventive ...
Our company provides home health care, transportation and basic and advanced support in type II and III ambulances, unlimited attention or urban location or age; Rental type II ambulance for SMEs; emergency coverage at sporting events; vacation plans; institutional celebrations in compliance Lopcymat and occupational medicine, in order to ensure the most precious... the life and health of our members
More...
Study Center & Learn With Me L.L.C. It was created to identify and develop an intervention plan aimed at promoting adaptive and integral development of the individual in society.
Psychometric evaluation:
Usually
More...
We provide evaluation and speech-language therapy and occupational therapy to children and adults.
Laboratories in América Latina
Dental lab, dental ceramic porcelain specialists, we jacket, metal-porcelain crowns, inlays, veneers, crowns on implants screwed or cemented methods....
Consultation of occupational medicine and occupational health : the aim is to ensure that your company complies with the requirements of national policies LOPCYMAT and safety and health at work
More...
We provide advice on occupational health, business, pre we perform occupational medical examinations, periodic medical examinations and medical tests retirement, laboratories, x-rays, spirometry, audiometry, visual acuity issuing epidemiological assessment of
More...
The company Your Best Vision, was created in order to meet the visual and ocular needs of the entire population.
Your Best Vision
Your best choice for eyecare
Improve your vision, improve your
More...
Seguridad industrial en los Estados Unidos - AmarillasEstadosUnidos.com
Distribucion de calzado industrial y equipo de proteccion personal para la industria...
Clinical analysis laboratories in América Latina
It is a laboratory of clinical analysis in general and specialized. We performed bacteriological analysis ...
We are an innovative company that provides services specialists and occupational health, with emphasis on continuing medical update, with advanced technology medical equipment.
Innovating health management in all processes using our solutions.
- Software specialized occupational health
- Software specialized laboratory
Software neonatal screening
blood bank software
In addition we offer the following services:
• Integration with hospital systems,
More...
Nuestras Páginas Amarillas en Español
Les invitamos visitar también: